Claire Tiltman murder trial: Accused 'took warped pleasure' in killing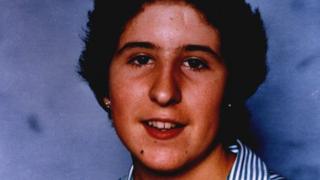 A man jailed for brutally attacking two women murdered a schoolgirl in a "frenzied and remorseless" attack more than 20 years ago, a court has heard.
Claire Tiltman, 16, was repeatedly stabbed in an alleyway near her home in Greenhithe, Kent on 18 January 1993.
Colin Ash-Smith, 46, killed the teenager because it gave him a "warped pleasure", the jury at Inner London Crown Court was told.
He denies murder, saying he has an alibi for the time of the killing.
'Ruthless and predatory'
Prosecutor Brian Altman QC told the jury Ash-Smith had confessed to a fellow prisoner he was Claire's killer and bragged about his attacks.
Mr Altman told the court the accused had also outlined "attacks that he had not completed" in journals found by police.
He said the former milkman murdered the schoolgirl during a "spree" of attacks on women in Kent in the late 1980s and 1990s.
Claire, who was studying for her GCSEs at Dartford Grammar School, was murdered four days after her 16th birthday.
After she was stabbed "no less than nine times" in the alleyway she managed to stagger to London Road where she died on her back on the pavement, the court heard.
Mr Altman said it was an attack by someone having "nothing less than the intention of killing her".
He added: "Make no mistake, this was a killing for the sake of killing, carried out by a ruthless and predatory armed killer, who attacked his chosen victim rapidly and stealthily, allowing her no time for defence or escape, and who fled the scene just as efficiently as he had arrived."
'Lucky to survive'
He said in 1988 when Ash-Smith was 20 years old he had tried to rape and murder his first victim "by strangling her and by stabbing her several times in the back".
"She had been lucky to survive," he said.
The prosecutor continued: "The killing of Claire Tiltman did not end his spree, because two and a half years later in October 1995, when he was 27, the defendant attacked and stabbed another local woman some 360 metres as the crow flies from where the prosecution say he attacked Claire Tiltman."
Ash-Smith was jailed in 1996 after he pleaded guilty to the 1988 and 1995 attacks.
The trial is expected to take up to six weeks.