Claire Tiltman murder accused 'invented fake alibi'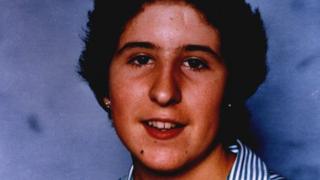 A man accused of murdering a Kent schoolgirl in a frenzied knife attack gave police a fake alibi, Inner London Crown Court has heard.
Colin Ash-Smith, 46, denies murdering 16-year-old Claire Tiltman in Greenhithe in January 1993.
The jury heard he gave police a phoney alibi and then changed his story six days later, adding he had been out with his politician mother.
Prosecuting, Brian Altman QC said it was "a deliberate diversionary tactic".
The court heard Ash-Smith called police the day after the murder to say he had driven past a man with dark curly hair near the murder scene.
Six days later, he told officers he had been out in his car delivering leaflets with his mother Diane Ash-Smith, who was a councillor and later the local mayor, jurors were told.
Mr Altman said Ash-Smith lied to divert detectives because he feared he or his distinctive "souped-up" white Ford Capri car had been spotted.
'Intentionally dishonest'
"What he was trying to do was to provide a false alibi to cover the possibility he or his car had been seen in the area," he added.
Mr Altman said Ash-Smith also changed the timings of his story to place him at home with his parents by 18:00 GMT, before the murder.
"We suggest that the account was intentionally false and dishonest," he said.
"Its purpose was to mislead police into thinking that he could not be involved in the murder."
The court also heard claims Mrs Ash-Smith used her privileged position as a councillor to prise information about the murder inquiry from police.
The court was told she quizzed police over concerns about a white car that officers had not identified or eliminated.
Jurors also heard Ash-Smith became "withdrawn and aggressive" after the murder, acted out "play" attacks on his girlfriend, and stopped going to the British Legion Club because there were pictures of Claire on display there.
Ash-Smith has previously admitted two other knife attacks on women in 1995 and 1988, for which he was jailed in 1996, but has always denied Claire's murder.
In 1995, police discovered diaries containing "Assault Plans" in which he bragged about the 1988 attack when he tried to rape and murder a mother.
In the diaries, he wrote: "My friends jokingly called me the Swanscombe psycho but they never suspected anything. In the end I got away with it.
"I even rang the police and told them some details about the attack. I also said if she [the victim] gave any description of me I would kill a schoolgirl."
It is claimed he stabbed Claire as she walked to a friend's house - four days after her 16th birthday.
The trial continues.