Chatham gambler self-exclusion scheme to be introduced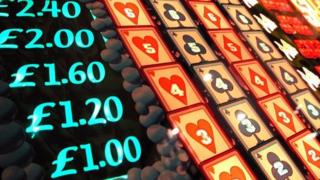 A scheme allowing gamblers to exclude themselves from every betting shop in Chatham has been announced.
Gamblers will be able to warn bookmakers they do not want to bet by signing a form and providing photos.
Medway Council said the scheme would promote "responsible gambling in our community".
But one campaigner said problem gamblers "wanting a fix" could easily get round the scheme which starts in December and runs for two years.
Gamblers who sign up to be self-excluded from one betting shop will then be encouraged to do also do so from other establishments.
Gamblers are currently able to spend up to £18,000 an hour on the fixed-odds betting terminals. The Medway towns have 30 bookmakers, with each shop permitted four betting machines.
'Desperate for a fix'
The project is part of a collaboration between the Association of British Bookmakers (ABB), members of the Medway betting industry, Kent Police and the Safer Medway Partnership.
Hilary Douglas from the ABB, said: "More and more self-exclude and staff are specially trained to make sure that they do.
"Over the last six months the number of self-exclusions around the country has gone up by 35% so we do believe this is a tool which really works."
But Matt Zarb-Cousin, from the Campaign for Fairer Gambling, said the "high turnover of staff in betting shops" could undermine the scheme, making it "impossible for that policy to be implemented effectively".
"It's easily circumvented by problem gamblers who are like drug addicts - desperate for a fix. They are going to find a way how to gamble," he said.