Police had 'no evidence' to corral animal protesters, IPCC finds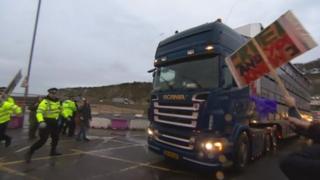 Police acted without sufficient evidence when they restricted protests against live animal exports at Ramsgate in 2012, a watchdog has found.
The Independent Police Complaints Commission (IPCC) found Kent Police did not have grounds to believe protesters would intimidate others.
"They are using the law to corral us into a very small area," said protester Reg Bell.
Kent Police said it was examining the implications of the IPCC ruling.
Mr Bell, a member of Kent Action Against Live Exports (KAALE), complained to the IPCC about former Kent Chief Constable Ian Learmonth, who signed an order on 6 November 2012 restricting demonstrations under section 14 of the Public Order Act.
The IPCC upheld the complaint but rejected allegations that Mr Learmonth's report on the protests to Kent Police and Crime Commissioner (PCC) Ann Barnes was biased.
The section 14 order was imposed following protests on 19 October when lorries carrying live animals were pelted with apples as they tried to enter Ramsgate.
The IPCC found there was insufficient evidence for Mr Learmonth to form a "reasonable belief" the protesters intended to intimidate others in future demonstrations.
"They treated us unfairly, unjustly and in a way that was oppressive. I think that is wrong," said Mr Bell.
"We are treated as if we are yobs."
'Case to answer'
Mr Learmonth retired from Kent Police in January.
But the IPCC said had he still been serving, he would have had a case to answer for misconduct over potential breaches of the standards of professional behaviour.
Mr Bell said section 14 orders were still being used by Kent Police to restrict KAALE demonstrations at Ramsgate.
A spokesperson for Mrs Barnes said she was involved in discussions with Kent Police over the use of section 14 orders.
Assistant Chief Constable Jo Shiner said: "The section 14 is currently in place. It is as a result of the escalation of some of the behaviour of some of the protesters.
"It's really important... that we allow protesters to protest democratically, but that we also allow traders to be able to operate and the public to go about their business safely."