Yalding floods: Residents to pay towards £17m river defences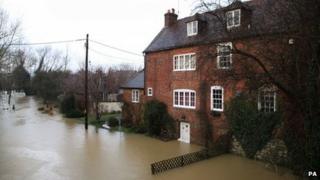 Residents and firms will be expected to help fund half of the £35m cost of schemes to protect part of Kent from floods, the county council says.
More than 200 homes were flooded in the Yalding and Tonbridge area over Christmas and new year.
On Tuesday, the government said it would share the cost of the defences with Kent County Council (KCC).
But, council leader Paul Carter said it would look to local people, firms and councils to help raise the £17m.
The money will pay for the height of the Leigh Barrier to be raised and the creation of a flood-storage area.
Mr Carter was accused of "backtracking" by Liberal Democrat prospective parliamentary candidate for Maidstone and Weald, Jasper Gerard, who urged him to "come up with the money [he] guaranteed".
Yalding Parish Council also said KCC would be providing 50% of the capital cost was very disappointed with the funding arrangements.
In a statement, Mr Carter said: "We now have to look at ways of finding this money over the next 10 to 15 years.
"I have always maintained that the match-funding needs to be raised partly by means of a precept on houses and also commercial rates in the areas that are most at risk of flooding.
"We will also look at a developer contribution from new houses built in area. Extra funds could also be available through our application for a Local Enterprise Partnership Growth Fund."
'Not approached'
Maidstone MP Helen Grant said KCC "gave a clear commitment to find 50% of the implementation costs for both proposed flood defence schemes".
"I remain confident that they will honour this commitment," she said
A spokeswoman for Maidstone Borough Council said the authority had not been approached to contribution towards the scheme but it had helped fund a feasibility study for the flood defence works.
The Leigh Barrier was built in 1982 to reduce the flood risk in Tonbridge by controlling the amount of water flowing through the town.