Thousands visit Rochester Dickensian festival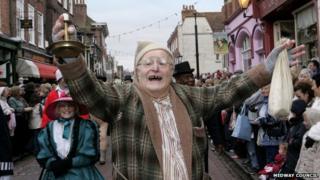 Thousands of people are visiting Rochester as the town pays homage to Victorian author Charles Dickens with the Dickensian Christmas Festival.
The event includes costumed processions and wandering characters from Dickens.
Eastgate House, which features in the Dickens novel, Pickwick Papers, and the Six Poor Travellers House, also featured by Dickens, are both open.
The author's writing chalet can be viewed only from the outside because of its fragile condition.
Medway councillor Howard Doe said the event was a real highlight in Medway's calendar.
He said it offered visitors a chance to get into Christmas and also discover the area's strong Dickens connections.
Dickens grew up in Chatham and died at his home in Higham, near Rochester.