Toy helicopter 'electrocution risk' in Medway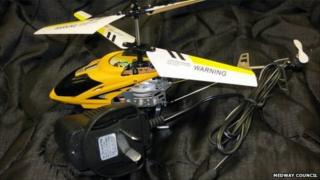 Toy helicopters which risk "electrocuting children" have been seized by trading standards officers.
Medway Council said officers had removed several of the helicopters from sale in Chatham, Kent.
A spokeswoman said the toys came with an "illegal two-pin plug" which could "risk electrocution" if forced into a socket.
In December 2013, Medway trading standards seized toy dolls containing cancer-causing chemicals.
Peter Hicks, the council's portfolio holder for community safety, said: "I'd urge parents to be extra cautious at this time of year.
"With shops being so busy, and parents in a rush to buy items, it can be easy for anyone to not think about safety or whether the product they are buying is a fake."