Ex-major and gambling addict reunited with 'special' sword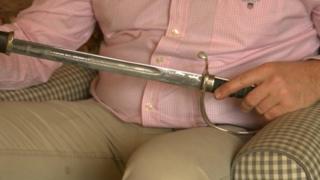 A former army major from Kent has been reunited with a military sword he sold to fund his online gambling addiction.
Justyn Larcombe last saw the sword three years ago during the height of his addiction in which he lost £750,000 and his home.
The "sword of honour" was awarded to him by the Queen while he was at the Royal Military Academy in Sandhurst.
It was tracked down by a military collector to a shop in Leicester and bought back by Mr Larcombe.
He said: "I sold it at the height of my addiction to fund my habit. I was really upset when I sold it - I knew I had done something really stupid and really bad."
After eight years in the army, Mr Larcombe began working in the City on a six-figure salary.
He then started gambling online while watching a rugby game. In the space of three years he lost his home, £750,000 and his family.
His employers also sacked him after they found out he had been using the company credit card to place bets.
After quitting gambling he has started running courses for addicts in Tonbridge and Tunbridge Wells. He has also written a book about his troubles.
He said: "It's a symbol of a high achievement for me - and for me and my life over the last few years there haven't been many good achievements - so having it back is quite special."