Kent wildlife park Zebras go to Africa for project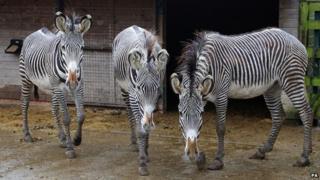 Three zebras from a Kent wildlife park are on their way to east Africa as part of an education programme.
The males, called Casper, Babati and Karumwa, are returning to Dijbouti as part of a conservation project about the environment.
They have begun their 20-hour journey from Port Lympne Wild Animal Park near Hythe to the Decan Sanctuary.
Adrian Harland, Port Lympne's animal director, said: "Our three boys will act as ambassadors for biodiversity."
He said the trio would help demonstrate the role zebras and other species play in maintaining the environment.
The project is backed by the Aspinall Foundation, which owns Port Lympne and Howletts animal parks in Kent.