Last photograph of Winston Churchill in Chartwell exhibition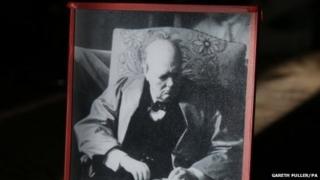 The last photograph taken of Sir Winston Churchill is among items belonging to his family that have gone on display at his former home in Kent.
The exhibition at Chartwell, near Westerham, marks the 50th anniversary of the death of the wartime leader.
Family invitations to his state funeral six days after his death on 24 January 1965 are also on show, along with meticulous plans for the occasion.
There are also messages from the US Senate and House of Representatives.
About 50 of the 60 objects on display have never been seen in public before. They form part of the exhibition Death Of A Hero at the National Trust property.
Churchill, who died at the age of 90, bought Chartwell for £5,000 in 1922 after falling for its views across the Weald of Kent.
Also featured in the exhibition is the Old Glory flag that flew at half-mast over Washington DC on the day his death was announced.
Katherine Barnett, Chartwell's house and collections manager, said: "Here was where Sir Winston's heart was.
"It was always the thought of coming back to the red bricks of Chartwell that kept him going."
Chartwell volunteer Beryl Nicholson said she was touched to discover the attention Lady Churchill paid to those who wrote to her or who contributed to the state funeral.
"She made sure that suitable replies were sent to every letter, and many were personally written by Lady Churchill herself," she said.
Churchill insisted a marmalade cat should always live at Chartwell "in comfortable residence".
The current resident is Jock VI, who has his own Facebook page and receives gifts including packets of tuna from visitors.