Damaged grave left in mother's Ashford garden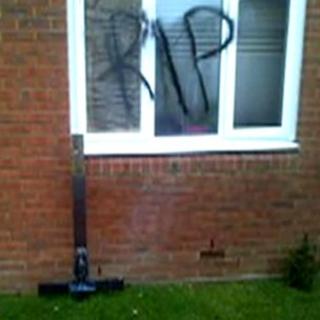 A grieving mother from Ashford in Kent has said she has been left terrified after a series of attacks on her home.
Florica Tiru returned to her home on 15 January to find the vandalised cross from her 10-year-old daughter's grave in her front garden.
Since then a brick has been thrown through her bedroom window and "RIP" sprayed on to the house.
Ms Tiru said she was suffering from panic attacks and has neighbours staying with her round the clock.
Jeanette Law, a neighbour who has been staying with Ms Tiru, said: "It's disgusting - you don't touch any grave, but a child's grave is vile."
Ms Tiru described the actions of those who carried out the attacks and damage to the grave as "pure evil" and "sick".
She said: "I'm very scared, upset and very sad.
"I have panic attacks, I am on stress medication. I suffer from anxiety and depression.
Kent Police said they were treating the attacks as "serious incidents" and asked for any witnesses to contact them.