Dean of Rochester Cathedral resigns after marriage break-up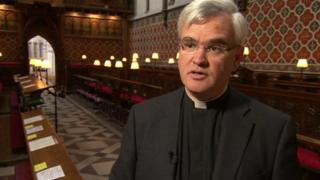 The Dean of Rochester Cathedral has resigned from his post after separating from his wife, it has been announced.
The Bishop of Rochester said the Very Rev Dr Mark Beach would leave the cathedral in Kent immediately.
He will take up a role outside ordained ministry, as director of London charity the Blackfriars Settlement.
The Rochester Diocese said on 7 January Dr Beach's decision to separate from his wife raised "issues" for some within the cathedral community.
'Wish him well'
It said the matters were under active discussion and the dean had withdrawn from public ministry.
Bishop James Langstaff said Dr Beach had been dean since May 2012, during which time a great deal had been achieved in the life of the cathedral.
"I ask the cathedral community and others to continue to hold Dr Beach and his family in their prayers, and I wish him well in his new role," he said.
The UKIP MP for Rochester and Strood Mark Reckless, tweeted his thanks to the dean for his work for the cathedral community and wished him well in his new role.
The Rev Canon Philip Hesketh is to become acting dean.