Blantyre House Prison in Goudhurst 'to be closed temporarily'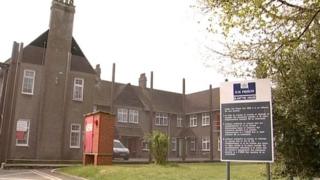 Prisoners are being moved out of Blantyre House Prison in Kent to allow refurbishment work to take place, the Ministry of Justice has said.
The Prison Governors' Association (PGA) said it was told earlier on Tuesday the jail would be shut down temporarily.
A spokeswoman for the Ministry of Justice said it was expected to be "back in use later in the year".
The 120-capacity jail in Goudhust, Kent, houses category C and D inmates who are preparing for release.
In a statement the PGA said it had not been consulted over the decision and had some "major concerns as to the under-usage of the capacity" within the open jail estate.
"We are led to believe that this decision has been borne out of the inability to recruit enough prison officers into some of the prisons in the South of England, and in particular the Isle of Sheppey in Kent, which has been widely reported by most media outlets."
The Ministry of Justice spokeswoman said: "Blantyre House prison is not being closed.
"Prisoners will be moved out temporarily, some refurbishment work will take place and it is expected to be back in use later in the year."