Ebbsfleet United football club in stadium revamp plan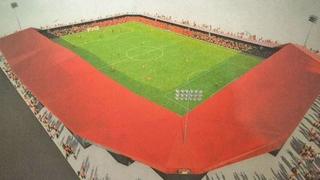 A Kent football club has revealed plans for a multi-million-pound revamp of its stadium.
Ebbsfleet United want to build a new £3.5m main stand along Stonebridge Road as the first phase of a scheme estimated to cost up to £8m.
The new stadium would increase capacity from just over 4,000 to 6,000, the club's vice chairman Peter Varney said.
A planning application is being submitted to Gravesham council this week with a decision expected in April.
The club said its current main Liam Daish stand, constructed mainly of timber, was deemed by local safety officers to be at the end of its life.
It said the finished ground would be a "complete building" as opposed to a collection of four stands.
Mr Varney said: "It's very important that we have got a stadium that attracts people to come in.
"The truth is at the moment it's a much older stadium, over a hundred years old, and we need something for the modern football fan and that's what we're building."
Gravesham council leader John Burden said the council currently owned the site but was in the process of selling it to the club.
"Obviously the plans will be submitted first. We haven't seen them yet and we need to listen to local opinion," he said.
"Until those opinions and those details are in, we'll obviously have to keep an open mind, but I think the aspirations of the club are something that everyone would support."