Sheppey Crossing safety warnings 'ignored'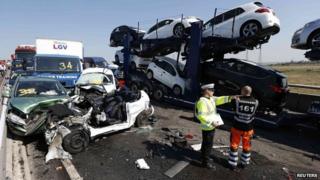 The Highways Agency ignored safety flaws in the design and construction of the Sheppey Crossing because it ran out of money, it is claimed.
Ex-Kent Police traffic officer Richard Denyer has told Gordon Henderson MP that safety recommendations up to the "eleventh hour" were not implemented.
Last July, a woman and her son died in an accident on the Kent bridge, just 10 months after 130 cars crashed in fog.
The Highways Agency said all relevant design and safety standards were met.
A month before the bridge opened the agency had agreed there were serious safety shortcomings, Mr Denyer said, but it told him there was no money left to make the changes.
The detail features in an email to Mr Henderson, in which Mr Denyer talks about his weekly meetings with the agency about the bridge's steepness, visibility, safe escapes, warning systems and emergency telephones.
The retired traffic management officer for the Swale area said he had requested several safety features right up until "the eleventh hour".
Mr Denyer's recommendations included a walkway to allow stranded motorists to get off the bridge, emergency telephones at regular intervals, and matrix signs on the approach to the bridge in case of fog.
Mr Henderson, Conservative MP for Sittingbourne and Sheppey, described the revelations as "a scandal".
Mr Denyer's allegations were backed by information sent to the MP by Minster Parish Council, which had been obtained under the Freedom Of Information Act.
It revealed the Road Safety Audit report compiled for the Highways Agency by the consultancy firm Mott MacDonald in 2005 had expressed concern about the gradient of the bridge, which could result "in a higher than expected rate of nose to tail type collisions".
It also said there should be more signage to warn of problems in high winds, fog and mist.
In a statement, the Highways Agency said the Sheppey Crossing was designed and built in compliance with all relevant design and safety standards and its safety record was continually under review.
It said the investigation into the multiple-vehicle crash in September 2013 concluded there was nothing to suggest the road infrastructure had played a part.
It also said last July's fatal crash was still under investigation by the coroner's office so it was unable to comment.
Mr Henderson said "as a bare minimum" he would like to see better matrix signs and measures to enforce the speed limit on the crossing.
"I think whoever took the decision to put money before safety has a number of serious questions to answer and I want to see the reasons for that decision investigated," he said.
The MP said he had spoken to roads minister John Hayes, who had agreed to undertake an urgent review into how the construction was conducted.