Missing trawler rescue teams find bodies in English Channel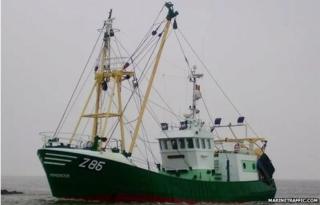 Rescuers searching for a Belgian trawler missing in the English Channel with four people on board have recovered two bodies from the sea.
The search for the fishing boat began on Wednesday afternoon when it vanished in rough seas and gale force winds.
The RNLI said the bodies, which were found in the sea off Boulogne, had been recovered back to the French port.
"The search has now been suspended as darkness has fallen," said an RNLI spokesman.
"However, this is still an ongoing and sensitive operation.
"There is a chance that our lifeboat could be tasked tomorrow to go out again."
A lifejacket and wooden debris were spotted by a French fixed-wing aircraft north-west of Boulogne earlier.
Those on board the Z85 Morgenster are believed to be Dutch, Portuguese and Belgian.
A coastguard helicopter, two Kent lifeboats and a French search and rescue helicopter carried out the first search for the trawler, which had been fishing in the Dover Strait.
A number of Belgian and Dutch fishing vessels have also been in the area looking for any signs of the missing vessel.
The Maritime and Coastguard Agency said the search was now in French territorial waters.