Margate potato masher attack: Mariusz Dobkowski guilty of murder attempt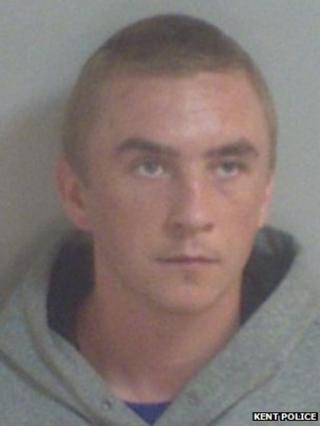 A man who repeatedly beat a 75-year-old with a potato masher and a poker, leaving him for dead, has been convicted of attempted murder.
A jury at Canterbury Crown Court found Mariusz Dobkowski, 30, formerly of Eaton Road, Margate, guilty of the attack on Kenneth Seymour.
He needed 40 stitches to his face and suffered fractures to his skull and back in the attack in December 2013.
Dobkowski, who fled the UK, will be sentenced on Tuesday.
He was tracked down to Belgium and brought back under a European arrest warrant last July.
Kent Police said Mr Seymour had been out with friends in Margate on 14 December when he was befriended by Dobkowski as he waited to catch a bus home to Cliftonville.
Both men got off the bus together in Northdown Road and headed in the direction of Mr Seymour's home in Rutland Avenue.
Several hours later, at about 20:45 GMT, a neighbour heard Mr Seymour shout for help and went to his flat to find him lying on his back and covered in blood.
A table had been overturned and a number of Mr Seymour's possessions were found broken on the living room floor.
He was taken to a London hospital where he remained for a month.
Insp Richard Vickery, of the Kent and Essex Serious Crime Directorate, said it had been "a brutal attack on an elderly gentleman who was incredibly fortunate not to have been killed by someone almost 50 years his junior".