Matthew Hoare death: Tyre company and director face charges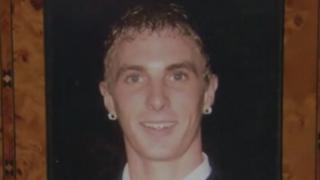 A tyre company is to face criminal charges nine years after one of its workers was killed when a tyre exploded in his face.
Matthew Hoare, 21, of Chartham, Kent, died in January 2006 while working for Watling Tyres in Canterbury.
He had been sent to fix a puncture on an earth mover in Sandwich when the tyre blew up.
The Health and Safety Executive (HSE) said Watling Tyres and director Andrew Wright would face criminal proceedings.
Both the company and Mr Wright each face three charges of breaching the Health and Safety at Work Act and Working Time Regulations.
Accidental death verdict
In a statement, the HSE said: "The matter is now in the hands of the court, which will serve formal summons papers in due course."
Last year, the jury at an inquest into the death of Mr Hoare concluded he lacked of training, and returned a verdict of accidental death.
His mother Carolyn Hoare told the inquest he had complained to managers about the lack of training and equipment, but was told if he did not want the job there were others who did.
The jury concluded several factors contributed to his death, including a failure to use appropriate equipment and a lack of training and experience.
Mrs Hoare received news of the HSE's decision to prosecute on the ninth anniversary of her son's death.
"I was shocked to receive that call on that day but it was a big sense of relief to know after nine years that there was going to be a prosecution," she said.
"It hangs over me daily... there's not a second of the day I don't think about my son.
"I always will, even when I've got a conclusion."
Watling Tyres has declined to comment.