Funeral held for Kent fighter pilot Neville Croucher, 91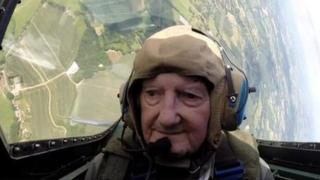 A funeral has been held in Kent for a 91-year-old former fighter pilot who last year fulfilled a lifelong ambition to fly a Spitfire.
Neville Croucher, from Chartham, near Canterbury, survived 800 combat hours in the cockpit of Hurricane fighters during World War Two.
He was laid to rest following a service at St Mary's Church in Chartham.
Reverend Phil Brown, who led the funeral, said he had "lived a very full life and was a real character".
'Baker's boy'
Mr Croucher grew up in Dover where he was a baker's boy. He dreamed of joining the RAF after a German fighter plane dropped a bomb close to where he was doing his rounds.
He was given the chance to fly a Spitfire from Headcorn Aerodrome last June having spent all his life wondering what it would be like to fly one of the famous planes.
At the time, he said: "What have I done to deserve this?
"I'm a nobody really. I'm still a baker's boy at heart."