Gillingham 'isolation school' will not face criminal charges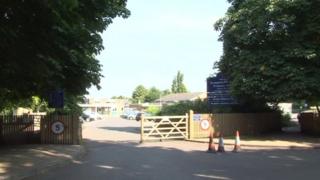 There is insufficient evidence to bring criminal charges against a Kent primary school accused of locking pupils in an isolation room, police have said.
Parents had complained about the use of the room at Brompton Westbrook Primary School, in Gillingham, last year.
Kent Police said there was insufficient evidence to press charges.
An investigation by Medway Council concluded there was a case of gross misconduct to be answered, but the school cleared staff of any wrongdoing.
It said the school's trustees had full confidence in the staff and would be taking no action.
A former employee and two parents had accused the school - which is now an academy and no longer under council control - of putting pupils in a locked room unsupervised for hours at a time.
Door removed
The council said when officers visited the school they were shown a room 7ft (2.1m) by 4ft (1.2m) with a lock on its door.
The door was removed that day under the supervision of Medway Council staff so the room could not be locked again.
Kent Police said it had "thoroughly reviewed information regarding concerns for the welfare of a child".
"Following interviews with a number of concerned parties and early consultation with the Crown Prosecution Service, there is insufficient evidence to proceed with a criminal investigation."
'Fight for justice'
There has been no comment from the school.
Parents Patricia Wilkins and Alison Lovett, who made the allegations, said they were disappointed by the decision and would continue their "fight for justice".
Daniel Bonich, of Clarke Kiernan solicitors, said the families were considering all their legal options, including the possibility of a private prosecution.
A spokesman for the Department for Education said it was aware of the police decision.
"We will now complete our review of the investigation into Brompton Westbrook commissioned by the academy trust.
"We intend to resume our discussions with the trust and Medway to ensure appropriate action is taken," he said.