Six teenagers arrested over Gravesend knife attack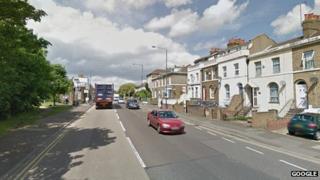 Six teenagers have been arrested after a man was found with knife wounds in Gravesend, Kent Police said.
The man was found in Milton Road on Tuesday morning and taken to hospital, where he remains in a stable condition.
Two men were reported as having assaulted the man before running off in the direction of Augustine Road.
Five boys, all aged 17, and an 18-year-old man - all from Gravesend - were arrested and remain in custody.
Det Insp Andy Featherstone, said: "The two main offenders are described as one black man and one white man.
"The white man was wearing a cream tracksuit, a green parka jacket with a fur hood, and black and white trainers.
"The black male was wearing a navy blue coloured body warmer, a black beanie hat, blue jeans and black trainers."
A police spokesman said the two men were thought to have left the area in a Volkswagen Polo.