Chattenden 'nightingale threat' housing plan goes to inquiry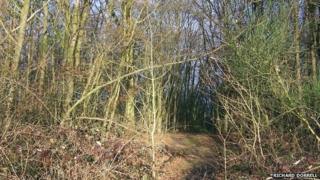 A public inquiry is to be held over plans to build more than 5,000 homes on the Hoo Peninsula after the proposals were called in by the government.
Ministers said they would decide on the plans for the Chattenden site following requests from residents, Natural England, the RSPB and Kent MPs.
The RSPB has said the land is home to 84 pairs of nightingales.
Medway Council approved the plans for Lodge Hill, a site of special scientific interest (SSSI), last year.
Proposals put forward for the former military site, owned by the Ministry of Defence, include housing, four schools, a healthcare centre and shops.
'Election issue'
Medway Council leader Councillor Rodney Chambers said the proposals had been politically contentious and had become a key issue in the Rochester and Strood by-election.
He said: "I think the secretary of state has decided that he'll take it out of the area of contention and I don't expect to hear any more about this now until after the general election."
He said he stood by the need for housing in Medway.
But the Conservative leader also said Lodge Hill was a government-owned site, the application had been put in by the government, and it was perhaps appropriate that the government should give consideration to whether it went ahead.
Labour group leader Councillor Vince Maple said two government departments were in dispute - Natural England which was part of Defra and brought in the site's SSSI status, and the Ministry of Defence.
He said it was understandable the row had to be resolved by central government, but Medway taxpayers would foot the bill for the inquiry.
He also said the longer the process took, the longer the 20,000 residents on the housing waiting list would wait.
UKIP MP Mark Reckless said Medway Council's support for the development played a key part in his decision to leave the Conservative Party - a move that triggered last autumn's by-election.
He said the government decision to call in the plans was a vindication of his decision and a "victory". He said he would continue to fight the plans at the inquiry.
A spokeswoman for the Department for Communities and Local Government said ministers had confirmed the application was being called in and a decision would be made following a public inquiry.
Responding to the council leader's comments, she added: "The current ownership of the site is irrelevant to the planning process. The planning regime considers the spatial and environmental impact of a proposed development."
Land Securities, the applicant behind the plans, said it was reviewing its options.
A spokesman confirmed the site was owned by Defence Infrastructure Organisation, an offshoot of the Ministry of Defence, and Land Securities was the development partner.