UKIP leader Nigel Farage condemns Rozanne Duncan's 'racist comments'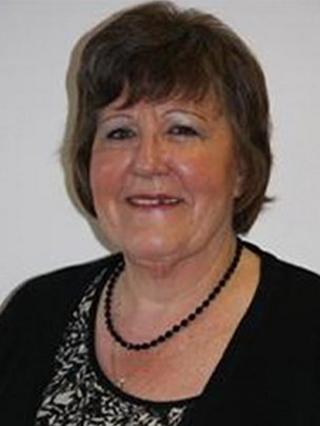 The leader of the UK Independence Party, Nigel Farage, has condemned "deeply racist comments" made by one of his Kent councillors.
Rozanne Duncan, who sits on Thanet District Council, was filmed as part of a BBC documentary, Meet the Ukippers, due to be broadcast on Sunday.
She was expelled from UKIP in December for bringing it "into disrepute".
Mrs Duncan, who represents Cliftonville East ward, maintains that she said nothing racist or derogatory.
In a letter to UKIP chairman Steve Crowther last month, she said she had been expelled from the party "without being offered the courtesy of a right to reply via a disciplinary hearing".
She said she had no intention of appealing against the decision and would continue to carry out her duties as an independent councillor.
In the fly-on-the-wall documentary, Mrs Duncan was recorded as saying: "I don't know why but I don't like negroes or anyone with negro features."
'Matter of hearsay'
Mr Farage, who was on a visit to Sandwich in Kent, said: "As I understand it she made some deeply racist comments and we acted immediately.
"I haven't seen the film but she is alleged, and she confirmed to us, that she had made a series of racist comments that is at odds with what we stand for."
In her letter, Mrs Duncan told Mr Crowther: "I'm assured that absolutely no-one has seen or heard the conversation which was filmed on December 17 2014 and any statements or remarks allegedly made by me are therefore a matter of hearsay."
Cliftonville East is in the South Thanet parliamentary constituency which Mr Farage hopes to win at the general election.
Mrs Duncan won the council seat in a by-election in May 2013.
She had previously stood as a Conservative candidate.