Aylesford Newsprint: Hundreds made redundant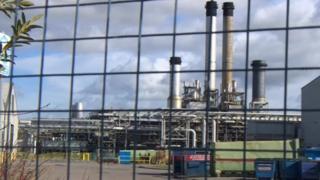 More than 230 people have been made redundant at a Kent newsprint firm, the administrators have confirmed.
Aylesford Newsprint, which employs more than 300 people near Maidstone, applied to the courts on Monday to go into administration.
The firm, which supplied its newsprint to some of the main newspaper groups, employed nearly 300 people and recorded a turnover of £139m in 2013.
Production has ceased and 233 staff made redundant.
The remaining 65 staff have been retained to help the administrators in the sale of the company's assets and the decommissioning of the paper mill.
'Traumatic blow'
Earlier union officials met bosses of the newsprint firm.
Unite regional officer Tim Elliot described the news as a "traumatic blow" to staff and the Kent economy.
The firm had been manufacturing in Kent since 1922 and produced more than 400,000 tones of recycled newsprint every year.
Tracey Crouch, Conservative MP for Chatham and Aylesford, requested a meeting with the business minister following the announcement.
Labour's parliamentary candidate for Chatham and Aylesford, Tristan Osborne, said the "impact of this announcement will be felt across the local area".
"It is clear that government needs to work with the administrators to ensure communication is clear with staff," he added.
Allan Graham and Rob Croxen from KPMG have been appointed as administrators.