Medway council tax rise approved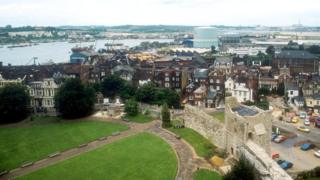 Medway Council has approved a council tax increase of just under 2% for 2015-16, avoiding a public vote.
A hike of 2% and above would have forced the council to hold a referendum, allowing residents to vote for or against the rise.
Conservative-led Medway Council said the increase was necessary to combat an "unprecedented" cut in government funding.
The authority will receive £38m this year - 27% less than in 2014-15.
Despite the rise, it said Medway residents would still be paying the lowest council tax in the county.
The council said the increase of 1.994% would mean a rise of £23 a year to £1,187.46 per year for an average band D property.
'Drastic reduction'
Councillor Alan Jarrett, deputy leader, said: "Year-on-year we are receiving less money and less support from central government.
"The £15m reduction this year is the biggest single driver for the £12m budget deficit we were faced with and it has been a tough task filling that gap, while maintaining all our vital services for people living in Medway.
"It has been extremely difficult to try to balance the books at a time when we are facing such a drastic reduction in government grants.
"But despite this there are a number of very positive announcements in this budget and we are proud to have once again avoided cuts to our frontline services."
However, Labour Councillor Vince Maple told the BBC: "The Labour Group voted against the Tory budget as we believe, having listened to the residents of Medway, that it had the wrong priorities."
The new charge will begin in April.