Gravesend Heritage Quarter planning challenge fails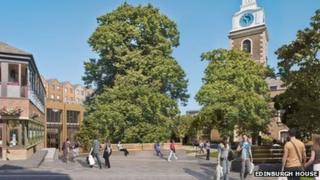 A controversial £125m redevelopment scheme which divided opinion in a Kent town was given planning permission correctly, the High Court has ruled.
Urban Gravesham took the local council to court over its plans to build homes, restaurants a hotel and new shops in Gravesend Heritage Quarter.
It claimed Gravesham Borough Council had not made its decision properly and was seeking a judicial review.
The authority said the judgement was a "total vindication" of its actions.
'Dispute over technicalities'
Council leader John Burden added: "The judge effectively produced a forensic shredding of the case against the authority.
"All sides ought to accept this ruling as final and then, at long last, we can proceed to build this desperately needed regeneration project which was originally proposed a decade ago.
"This scheme was approved by the Regulatory Board and the Secretary of State did not call it in for an inquiry. Now the dispute over legal technicalities has been resolved."
Councillors narrowly voted to give the redevelopment of the heritage quarter the go ahead at a regulatory board meeting in April 2013 and then issued planning permission the following year.
Plans include an extension to the existing St George's Shopping Centre, a new leisure quarter, and a re-landscaped riverside.
Work on the site, that developer Edinburgh House claims will create 900 new jobs, was due to start in October 2014 but was delayed by the legal challenge.
Urban Gravesham previously branded the scheme an "over-development", saying it would "completely overwhelm the Heritage Quarter".
A spokeswoman said the group was "disappointed" by the decision and considering its options, including an "appeal to the Court of Appeal".
"Urban Gravesham would like to thank our many members and supporters and assure everyone that we will continue to represent those people who care about the future and heritage of our town centre," she added.