Dover Western Heights Tunnels 'arsenic-coated' blocks stolen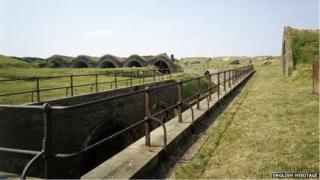 A health warning has been issued after 1,000 wooden blocks which may be coated with arsenic were stolen from a Kent tourist attraction.
The timber flooring blocks were taken from the north entrance of the Dover Western Heights tunnels between 23 and 27 February, Kent Police said.
The 6in (15cm) cubes may be coated with an arsenic preserver, a method used by Victorians to treat wood.
The public are warned they may be a health hazard, particularly if burned.
The construction of Western Heights began during the Napoleonic wars and was completed in the 1860s, to protect Dover from a French invasion.
'Historic road surface'
Insp Guy Thompson, Dover community safety inspector for Kent Police, said: "These blocks are more than 100 years old. It would have taken several trips to remove so many blocks.
"Our main concern at the moment is to alert those who may come into contact with the flooring, that they could be a health hazard, especially if burned as fuel."
Neil McCollum, from English Heritage, said the theft was a "serious case of heritage crime".
"Not only has the removal of a substantial number of wooden blocks caused major damage to the historic road surface of this tunnel but the thieves have also potentially put themselves and others at risk to exposure to substances which have been used in the past to preserve wood and about which we may now have safety concerns," he said.
"It is important to say however, that we have no historic documentation to prove these blocks were treated with any specific substance that may be harmful and we will be carrying out a series of tests on the remaining blocks to determine what historic treatment they may have been subject to."
Mr McCollum said the site was closed off to the public but they would be looking at increasing security.