Manston airport: Government orders CPO review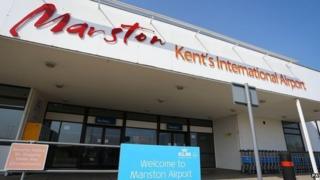 A government review has been ordered into the decision not to go ahead with the compulsory purchase of Kent's Manston Airport, which closed last May.
Thanet District Council (TDC) decided in December it would not go for a compulsory purchase order (CPO), despite the wishes of campaigners.
Transport minister John Hayes said an independent consultant would be appointed to review the TDC process.
TDC said it welcomed the government's support in securing Manston's future.
True ownership
The airport closed with the loss of 150 jobs seven months after being bought by Ann Gloag, co-founder of the Stagecoach Group.
A majority stake of the site was subsequently sold to regeneration specialists Chris Musgrave and Trevor Cartner for redevelopment.
However, the nature of the sale and the true ownership of the airport was called into question at a recent Commons Transport Select Committee hearing.
Campaigners, including Conservative MP for North Thanet Sir Roger Gale, have been in favour of keeping the airport open.
'Way forward'
Mr Hayes said: "I recognise the strong interest in keeping Manston Airport.
"My department will appoint a well-established consultant to review the process so far on decisions about the airport's future.
"While it is down to Thanet District Council ultimately to agree a deal, the government is doing everything possible to support them in finding a way forward."
Mr Musgrave and Mr Cartner questioned whether hiring a consultant was the best use of public funds.
"There is no viable business case to reopen the site as an airport," they said.
''We will continue with our proposed timetable for public consultation as we do not believe that a CPO would succeed in any event."
The council said in a statement: "Securing a positive future for Manston which supports the district's economic development is a key priority for us and therefore we welcome the government's support in this aim."