Maidstone Hospital stops specialist cancer surgery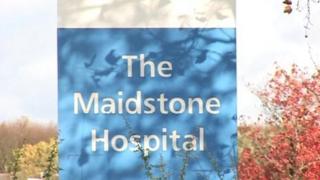 Keyhole surgery for stomach and throat cancer that was suspended following the deaths of five hospital patients will not resume, an NHS trust has said.
Upper gastrointestinal (GI) surgery at Maidstone Hospital in Kent was halted last May after a report concluded its surgery team was "dysfunctional".
All five patients died between 2012 and 2013, within a year of having surgery.
Maidstone and Tunbridge Wells NHS Trust said diagnostic work and cancer treatment would continue to take place.
Paul Sigston, medical director, said: "Major upper GI cancer surgery will not be carried out... and we are currently working with our NHS partners to plan the long-term strategy for patients needing this kind of treatment."
'High standard'
The report by the Royal College of Surgeons concluded that surgeons at Maidstone Hospital were unable to provide a safe service.
The incidents were also referred to the General Medical Council, and the trust conducted its own internal inquiry.
After the report was published, Dr Sigston said: "We proactively identified issues within our upper gastrointestinal (GI) cancer surgery service in 2013 and took action.
"Further in-depth investigations have repeatedly confirmed that the issues were confined to this service and to no others within our trust, and to a particular type of laparoscopic surgery which has been stopped.
"We have shared our learning widely with our surgical teams, reviewed our surgical services as a whole, and can evidence that all other areas of surgery are being provided to a high standard."
Sharon Lam, of solicitors Thomson Snell and Passmore which represents the families of the five patients who died, said it welcomed the decision of the trust not to resume surgery.
"If they have any doubt as to their ability to deliver a safe service to the patients then that must be a correct decision," she said.