Brighton 'Bondi beach' seafront pool plans backed by council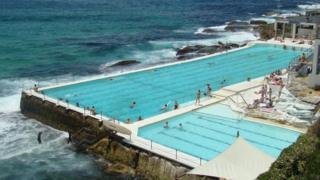 Plans for a £3m Bondi beach-style outdoor pool on Brighton seafront have been given initial council backing.
The proposal includes an open air pool, exercise studios and facilities for cycling and running.
It is hoped the centre will attract international triathlons which include open water swimming as a discipline.
But the council has been accused of a "lack of joined-up thinking" as the nearby Saltdean Lido is undergoing a multi-million pound restoration.
The Brighton plans have been given "first stage approval" and will now be open to public consultation before planning permission is decided on.
If granted, the facility could be open by the summer of 2017, developer Copsemill Properties said, adding: "We think this is a great use for a prime site that has been derelict for far too long."
Open water
The area chosen for development is the derelict Peter Pan site on Madeira Drive, Kemptown.
Copsemill Properties and its partners Swimtrek and Swimmergy plan to create a hub for swimming and sports-related businesses there.
The site would house office space, retail units, training rooms, a library and conference as well as sports facilities, Brighton Council said.
At its core, the swim centre would provide escorted sea swims including training for lifeguards, open water and leisure swimmers.
Local MP Simon Kirby had called on the council to rethink its plans for a pool just a few miles from Saltdean Lido which has received millions in lottery funding for restoration.
Saltdean Lido also spoke of its dismay at the "lack of joined-up thinking" on the issue.
But the council insisted the Kemptown pool would be "very different".
Chair of the council's economic development and culture committee, Geoffrey Bowden said: "This development would not only be a centre of excellence for the increasingly popular sport of open water swimming but also appeal to families, fitness enthusiasts and beach visitors."