Dover's new community hospital nears completion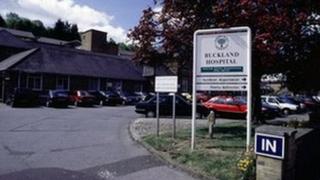 The construction of a new community hospital for Dover, in Kent, is nearing completion, with builders set to hand over the building next month.
Buckland Hospital, on the site of the existing hospital of the same name, is due to open to the public in May.
East Kent Hospitals University NHS Foundation Trust said the handover was slightly delayed due to "last winter's exceptionally wet weather".
Spokeswoman Liz Shutler said services would be of the highest standard.
The director of strategic development and capital planning added that there was still "a great deal of work to be done" once the builders had completed their work.
"We need to undertake a deep clean of the building before moving the medical equipment in and setting up the IT, ready for the first patients to be seen in the new purpose built facilities in May," she said.
Funding for the hospital was approved in December 2012, with work initially expected to have been completed by December 2014.