Lorries parked illegally overnight in Kent 'to be clamped'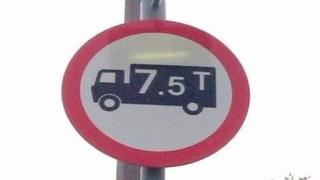 Lorries parked illegally overnight in Kent are to be clamped for the first time to stop parking problems, litter and human waste in lay-bys.
Some drivers are staying beside the A20 near Ashford for several days.
Ashford Borough Council said the problem was due to cross-Channel traffic, with the majority of illegally parked lorries being foreign.
Lorries will only be clamped by the council after they have received three previous tickets.
Councillor David Smith, from Ashford Borough Council, said: "We have stopped the British drivers [from parking illegally], because obviously we can fine them with parking fees and things like that, but the foreigners totally ignore it.
"They are racking up large numbers of tickets because they are regular offenders."
The scheme will be piloted for six months.
Natalie Chapman, from the Freight Transport Association, said: "We're trying to attract people into the industry and this really isn't helping - people don't really want to do a job when there's nowhere to go the toilet."