Borstal Copper Beeches care home criticised by CQC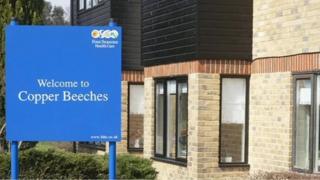 Serious failures have been found at a care home in Kent by inspectors.
A Care Quality Commission (CQC) report found Copper Beeches care home in Borstal, near Rochester, was not always safe and some incidents and accidents had not been reported.
It also said the care provided was not always effective or well-led.
The report followed two inspections in December, one of them unannounced. Care home managers have not yet commented to the BBC.
The provider, Four Seasons 2000 Ltd, has been told to make improvements or face enforcement action.
Adrian Hughes, deputy chief inspector of Adult Social Care South, said staff were caring and compassionate and had a kind and respectful attitude towards the people they supported.
But he added: "The shortfalls we found means that the provider has to take some immediate and urgent action."
The report found the home did not have enough staff and people were not protected from the risk of abuse or poor infection control.
Staff did not have time to help people eat, and were not adequately trained, supported or supervised.
Inspectors said complaints were not managed effectively and communication was ineffective.