Plaque marks Dartford WW2 'doodlebug' site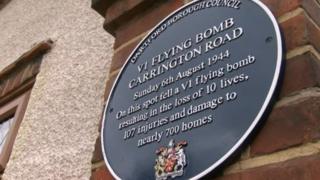 A plaque marking the spot where a World War Two bomb hit a Dartford street, killing 10 and damaging several hundred homes, has been unveiled.
Dartford council said the V1 flying bomb, known as a doodlebug, injured a further 107 people on 6 August 1944.
The blast in Carrington Road destroyed 20 homes and damaged 700 properties.
The council said Dartford was heavily bombed because German aircraft followed the Thames to reach London and dropped remaining bombs on the way back.
Enemy aircraft also targeted the borough's munitions factories.