Daniel Squire: Fatal crash parents want text-drive ban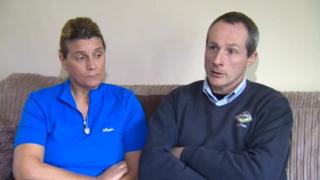 The family of an 18-year-old cyclist who died after being hit by a van have called for drivers who text behind the wheel to be banned.
Daniel Squire died after the accident on the A258 at Ringwould near Deal, Kent in September 2013.
The driver, who was cleared of causing his death, admitted in court he had been texting earlier in his journey.
"If you are caught drink-driving you lose your licence. No questions asked," said Daniel's mother Tracy.
"For me, if you are either on your phone or texting on your phone you have lost your liberty to drive."
Daniel's father Symon said using mobile phones in cars was a moral as well as a legal issue.
"People need to make a moral stand and say, 'It is dangerous, there are consequences and I don't want to take the risk'," he said.
Philip Sinden was cleared at Canterbury Crown Court on Friday of causing death by dangerous driving and causing death by careless driving.
The prosecution had claimed he was distracted from driving by using his mobile phone before the crash.
Mr Sinden denied he was distracted but admitted he had been attempting to text as he turned on to the A258.
Daniel's mother Tracy said life was not worth living without him.
"He was our best friend. He made us the parents we are today and he was just the greatest lad," she said.
She said she had been unable to visit his grave since the court case.
"I don't know how to explain this to him, because he is lying in there and I can't do anything to help him any more.
"We are right back to where we were on the day he lost his life - nothing has changed."