Conservation starts at Rochester's Eastgate House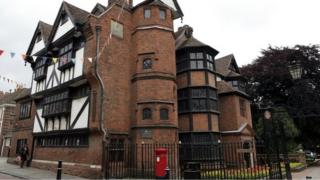 A £2.1m conservation scheme has begun at a house in Kent made famous by Victorian writer Charles Dickens.
Eastgate House in Rochester High Street was featured in his novels Pickwick Papers and The Mystery of Edwin Drood, and over the years has been a school, restaurant, museum and a family home.
Medway Council said conservation had now begun and the building would open fully to the public next year.
The project has received £1.2m lottery cash.
Writing chalet
Eastgate House was built in the 1590s for Sir Peter Buck, who was Clerk of the Cheque at Chatham's Royal Dockyard and Mayor of Rochester.
Work will include repairs to the roof, windows and floors, installation of new heating and lighting, and removal of unsightly pipes and wiring.
A lift will be installed and a staircase reinstated to improve access.
The council said work began about four weeks ago, but the extent of the scheme was unveiled at the launch on Wednesday.
Eastgate House is home to the Swiss chalet where Dickens used to write. The chalet was previously at Gad's Hill, where Dickens lived, and was moved to Eastgate House in the 1960s.