Swanley sinkhole swallows garden sheds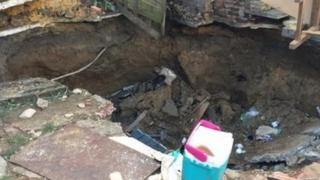 A sinkhole has opened up in a Kent town swallowing two sheds and disrupting sewers and water supplies.
The hole appeared in Swanley several days ago, but residents have said no repair plan has been put in place.
Joe Hutchings, of Oliver Road, said he saw his shed half-standing, and then he watched the whole structure collapse.
Thames Water said a sewer broke after the ground collapsed and it would work with Sevenoaks council to see what investigations could be carried out.
BBC reporter Zac Daunt-Jones said the hole was a few metres deep and about 6.5ft (2m) by 9.8ft (3m) across.
Gary Kent, who saw his shed and Mr Hutchings's shed fall in the hole last Thursday, said: "The bricks started becoming unsafe around the doorway and it's imploded on itself, and the next-door neighbour's shed's gone down there as well, plus all their contents."
Mr Kent said residents were left not knowing where to turn, and Mr Hutchings said nobody seemed to be willing to give them any advice.
In a statement, Thames Water said its sewer was in working order before the sink hole appeared, but the ground movement caused it to break.
It said: "We're very sympathetic to how worrying this situation must be, so we'll get in touch with the council to see what further investigations can be carried out."