Dartford election candidates clash over Tesco 'bombsite'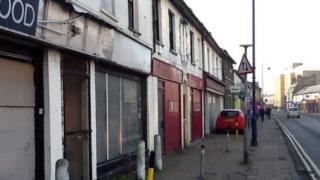 A Kent town centre has been "badly let down" and left "looking like a bombsite", according to candidates standing in the general election.
They clashed over the future of Dartford following Tesco's decision to pull out of plans to build a superstore in Lowfield Street.
Permission for a store and 200 flats was granted in November 2011.
But, Tesco's decision to shelve the development along with 48 other large stores was announced in January.
Six candidates were asked why there was never a plan B for Dartford by an audience member during a BBC Radio Kent debate.
"Tescos need to get out of Dartford," said Conservative Gareth Johnson, who held the Dartford seat until parliament was dissolved on Monday.
Community group
"Plan B is to ensure that Tesco sells the land to a developer that puts in a development in the interests of Dartford.
"This is why the council has set up a community group and a local street group to look at different options."
The Dartford seat was held by Labour's Dr Howard Stoate, between 1997 and 2010.
Simon Thomson, Labour's candidate for 7 May, said his focus would be on small businesses in High Street and Spital Street as well as in Lowfield Street.
"Labour has a plan for that - cut business rates for small businesses," he said.
"Also, Labour will give a promise to councils to give them the power to tell developers to use it or lose it - you build or you get out."
UKIP candidate Elizabeth Jones said the people of Dartford had been badly let down.
"It shows a complete lack of imagination from the Tories and Labour," she said.
"We need mixed housing, perhaps for two, three or four bedroom families.
"We also need small outlets to make it a draw for people to come and spend money and improve the economy."
English Democrats candidate Steve Uncles said Dartford town centre looked like a World War Two bombsite.
'Speculate and speculate'
"That is the legacy of the two main parties," he said.
"Why don't we have something like a bowling alley? Why don't we move the swimming pool into the town centre?"
The Green Party's Andy Blatchford said Tesco had bought and "banked" land across over the country .
"There needs to be something like a land value tax which will stop this, but what you can do in the short term I don't really know."
Lib Dem candidate Simon Beard agreed there should be a land value tax.
"Companies that buy up land and sit on it never pay a penny, they simply try and speculate and speculate and get a profit out of it," he said.
"We have to get government and big business out of bed with each other."
The full debate will be broadcast on BBC Radio Kent at 19:00 GMT on Thursday.