Reading helpers sought for Medway schools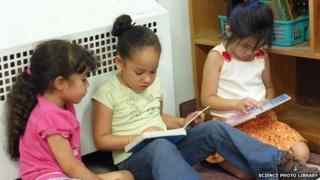 Volunteers are being sought to work with children in primary schools in Medway to ensure they are literate by the time they move to secondary school.
Last year 14% of children in Medway did not reach the required standard in reading, Medway Council said.
The literacy charity Beanstalk said it wanted to get 80 new reading helpers into Medway schools by December so that "no child was left behind".
Each volunteer helper provides one-to-one support to three pupils for a year.
They see each child for two 30-minute sessions a week, during term-time.
'Word games'
A recent report for the national charity found that 93% of the young children supported by the reading helpers during the 2013-14 academic year showed meaningful improvement in their reading level.
Beanstalk already runs the Get Kent Reading campaign, but said it wanted to spread out to reach the Medway towns.
Pat Lacey, who has been working at the Archbishop Courtenay Primary School in Maidstone, said he often used word games as well as books to help pupils.
"Some of them are a little bit reticent to open a book so I will look at some of the other materials I've got, and maybe will play a game.
"That will give me a clue as to how to approach the main task... to teach them to read."