Pregnant woman and partner rescued from capsized boat off Dungeness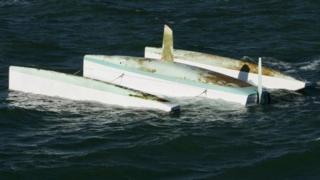 A pregnant woman and her partner have been airlifted to hospital after their trimaran capsized off the Kent coast.
Dover Coastguard was alerted at 15:00 BST on Saturday that two people were in the water, clinging to the upturned hull, one nautical mile off Dungeness.
HM Customs cutter Valiant reached the vessel and stood by, marking the upturned hull.
The couple were rescued from the water and brought to shore at Dungeness, then taken to William Harvey Hospital.
The rescue helicopter from RAF Watisham flew the couple to the hospital in Ashford.
The Maritime and Coastguard Agency said they were cold and shaken but otherwise unharmed.
"Both were wearing lifejackets and the man ensured that his partner was safe then tied a rope around himself and dived under the vessel to retrieve a flare so that he could alert rescuers to their position," said Dover Coastguard watch manager Bob Giles.