Janice Atkinson: Expelled MEP appeals UKIP decision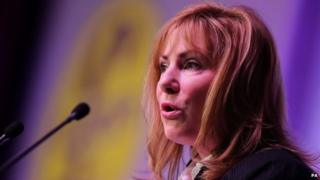 MEP Janice Atkinson has lodged an appeal against the decision to expel her from UKIP for "bringing the party into disrepute".
She was thrown out in March after allegations a member of her staff tried to arrange a false receipt for a meal.
The South East MEP was also replaced as the general election candidate for Folkestone and Hythe after the claims were published in The Sun newspaper.
A spokesman for Ms Atkinson confirmed she lodged an appeal over the weekend.
Ms Atkinson and her assistant, Christine Hewitt, who was also expelled from the party following a disciplinary hearing, were given 14 days to appeal.
In March, The Sun published a secret recording appearing to show Ms Hewitt asking the manager of a restaurant in Margate, Kent, for an invoice for a much higher sum than the bill she had received.
The BBC has not been able to contact Ms Hewitt for a comment.