Motorists warned for playing football on M25 after crash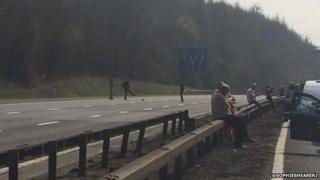 Motorists stuck in traffic after a major crash on a motorway were playing football on the carriageway, prompting a warning from police.
The M25 was closed following the crash at junction four, for the A21 at Orpington, on the anti-clockwise carriageway.
Kent Police tweeted: "We have reports people are playing football in the static traffic on the M25.
"This is dangerous. We ask that people remain in their vehicles."
Stranded
A female motorcyclist in her 40s was seriously injured in the crash, the Kent, Surrey and Sussex Air Ambulance Service said.
She was airlifted to St George's Hospital in south west London.
The clockwise carriageway was closed for a time to allow the air ambulance to land, but has since re-opened.
Two teenagers were reported as being stranded on the wrong side of the motorway after the clockwise carriageway reopened, a Kent Police spokesman said.
"The pair had reportedly walked across the motorway whilst the road was closed, but then were unable to get back when the road was reopened," he said.
They were helped by police to return to their vehicles.