Joshua Caird jailed for life for 'cold-blooded' Donna Eastwood murder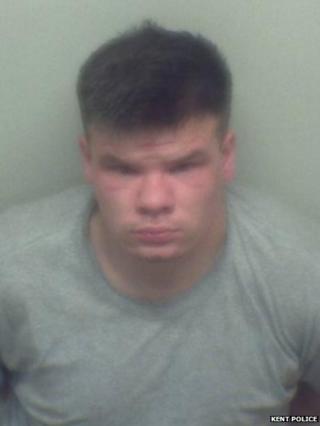 A man has been jailed for life after a surprise birthday party ended in the murder of a mother of four from Dartford.
Joshua Caird, 27, pleaded guilty when he appeared at Maidstone Crown Court accused of killing Donna Eastwood, 26, last October.
Caird stabbed Ms Eastwood and bound her with wires before leaving her to die in a burning car.
He has been sentenced to life with a minimum of 25 years in prison.
Ivan Beasley, of the Kent and Essex Serious Crime Directorate, said: "This was a senseless and cold-blooded attack on an innocent mother.
"Today's sentence helps give Donna's family some small element of closure, but it does not change the fact that four children are now without their mother."
Donna's sister, Lisa Sheppard, said: "I am glad that this nightmare is now over and that justice has been served. Life no doubt will still be hard but to know that Donna's killer is locked up is of some comfort."
Confession
Neighbours Caird and Ms Eastwood were seen talking at a surprise birthday party for Caird's mother, police said.
Later, Caird went to Ms Eastwood's house and stabbed her. He wrapped her in a tarpaulin and put her into the boot of his sister's car, which police said he had stolen.
He then drove to his brother's house and asked for help to dispose of her, telling him: "She's in the car. I think I've killed her."
Caird's brother attempted to pull Donna out of the car but was knocked to the ground by Caird, who then drove away.
Manhunt
Police received three separate calls to report Caird's actions before the burning car was found.
A 30-hour manhunt then took place before Caird was found in the attic of his empty house, police said.
Nigel Pilkington of the Crown Prosecution Service, said the guilty plea was "testament to the overwhelming evidence" it had against him.
He continued: "She was a mother with four young children and our thoughts go out to her family and friends.
"Now that Caird has been brought to justice, we hope they can start to rebuild their lives."