Sittingbourne WW2 plaque bid to trace families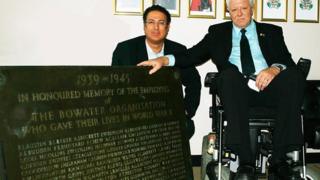 Families of servicemen named on a World War Two plaque rescued from a former pub are being sought by a Kent branch of the Royal British Legion (RBL).
The bronze plaque commemorates workers from Sittingbourne's Bowater Mill who died in the conflict.
RBL branch chairman Steffan Jordan said a resident told him about the plaque at a Remembrance Parade last November.
He said the RBL worked with the council to move the plaque from the now-closed pub to the council offices.
Mr Jordan said it took four people to remove the plaque from the Kemsley Arms in Kemsley, because of its size and weight.
A decision on its permanent home is due to be made in June.
Mr Jordan said he was working with the mill's present owners DS Smith to uncover the stories of people listed on the plaque and has urged any family members to contact him.
The names of those on the plaque are listed on the RBL website.