Theft of dogs across Kent more than doubles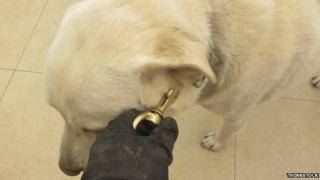 The theft of dogs in Kent has more than doubled in two years, with pet owners urging tougher action against thieves.
Figures from Kent Police reveal dog thefts rose from 49 in 2012 to 103 in 2014, with a rise of 31% for all animal thefts in the same period.
Kennel owner Paul, who wanted to remain anonymous, had a dog stolen and said thieves should get severe prison terms.
Animal welfare officer Anne Marie Milton said some were used for breeding and others were stolen as ransom.
She urged owners not to leave dogs outside alone for long periods of time - either in gardens or tied up outside shops.
Since 2009, more than 1,300 animals including cattle, horses and sheep, have been stolen in the county.
The National Farmers Union Mutual insurance company, which insures farmers, said the theft of working dogs and livestock were a large proportion of rural crime.