Patrick Lamb drowning: Parents' alcohol warning to youngsters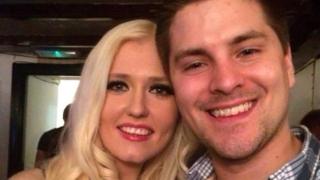 The parents of a man who drowned in the River Medway after drinking heavily have urged young people to avoid "suicidal" drinking.
The body of Patrick Lamb, 28, from Greenhithe, was found in the river near Rochester in January, a month after he was last seen leaving a Maidstone bar.
A witness who saw him staggering told an inquest that he appeared "hammered".
Coroner Patricia Harding recorded an open conclusion but said there was no evidence of third-party involvement.
Mr Lamb, a broadcast engineer, was seen leaving Bar Chocolate on the night of 12 December.
His disappearance triggered a large search involving the police and public.
The inquest in Maidstone heard that three police searches of the river failed to find him.
His body was discovered in the river at Cuxton Marina, near Rochester, on 10 January, four weeks after he was last seen.
A post-mortem examination recorded the cause of death as immersion.
A preliminary hearing had heard that Mr Lamb had appeared heavily intoxicated on CCTV footage showing him on the night of 12 December and the early hours of 13 December.
Ms Harding said she was recording an open conclusion because there was no evidence of how or where Mr Lamb had entered the river.
After the hearing, Mr Lamb's parents, Tony and Sharon, said they had not learned anything significantly new from the inquest, but they sent a plea to young people not to drink excessively.
Mr Lamb said: "These days younger people tend to get involved in what is really quite suicidal drinking - all sorts of shots and things like that - and they have no real knowledge of what they're doing to their system. That is a big problem."
His wife, Sharon, added: "You can still go out and enjoy yourself without having too many to drink. You can go out and have a cup of coffee. You don't have to drink [alcohol].
"My sons, when they drink, I tell them, 'stop, think of your brother'. And that's what they do now."