Kent Police body-worn camera trial 'success'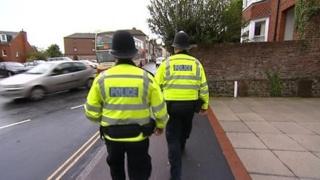 A trial of body-worn cameras by Kent Police has been heralded a success, with plans to roll them out to all front line staff.
The scheme was launched in Maidstone, the Medway towns and Thanet in September.
Deputy Chief Constable Paul Brandon said cameras helped to "speed up justice".
He said: "It often leads to an earlier confession and a charge without dragging out the process."
'Being recorded'
He added: "We've also seen people's behaviour is changed because they can see the camera on them and they know they're being recorded.
"And there are some officers - by far away the minority- that perhaps behave how they shouldn't and of course they are now aware that all these instances are being recorded."
The trial was suspended in October for a short period after a technical fault.
Supt Martin Wilson, the force's head of innovation, said there were currently 400 camera units, though further purchases would only be made after a thorough evaluation of the cost.