Manston Airport compulsory purchase 'will fail' warning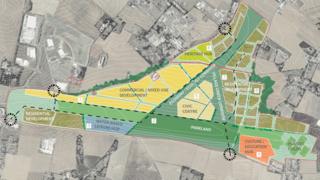 The owners of the former Manston Airport site have said any attempt by the newly elected UKIP council in Thanet to pursue a Compulsory Purchase Order (CPO) will fail.
Following last week's election Thanet District Council became the first UKIP-controlled authority in the UK.
Chris Wells, who plans to lead the authority, said his party's pledge to pursue a CPO is expected to go ahead.
The airport, which closed in May 2014, has been earmarked for development.
'Wasted money'
Its current owners, Trevor Cartner and Chris Musgrave, said in a joint statement: "We are of the opinion that the advancement of a CPO process by Thanet District Council will fail.
"There is no foundation on which a CPO process can be progressed and this has more to do with politics than the interests of the public.
"If Thanet District Council continue they will have wasted taxpayers' money on a venture they could not win."
Two concepts for the area have been revealed, each with residential areas, commercial space and parkland.
Mr Wells said: "The first thing we do now is put forward a proposal for council and cabinet to approve an indemnity partner in the context of moving a CPO forward.
"And we will be doing that in the course of the next few days, as promised."