Kent Police admit 'missed opportunities' over cyclist death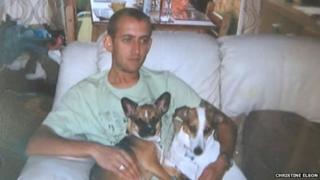 Police have admitted failing to fully investigate a crash in which a cyclist was hit by a lorry and killed.
Marc Dunk, 28, died in February 2010 when he was riding to work in Thanet.
A coroner recorded a verdict of accidental death and an initial Kent Police review found the investigation had been carried out correctly.
But Mr Dunk's family were dissatisfied with the investigation and a campaign led to the force carrying out a serious case review aided by Essex Police.
Kent Police said lessons had been learned, although the issues raised in its review would have been unlikely to have altered the outcome of the case.
'Missed opportunities'
The initial police investigation into the crash concluded Mr Dunk rode across the path of the lorry but his mother has always maintained that was not the case, and she wanted to prove that he was not at fault.
Kent Police have now acknowledged there were "missed opportunities", including a failure to examine during the lorry driver's interview his "consumption of codeine and its effects on him".
Other problems highlighted in the serious case review were the fact only two of four statements from key witnesses had been taken before the driver was interviewed, and a "lack of knowledge of what a post-mortem examination could have added to the investigation".
Christine Elson, Mr Dunk's mother, said there were still unanswered questions.
"I don't find my son being the only person to not have a post mortem in a road accident - the only one in Great Britain - very helpful, as I still don't know what his injuries were, how he died, and what he died of.
"That is one thing that should have been done that hasn't been done," she said.
In a statement, Kent Police said working practices had been adapted to ensure, as far as was possible, that any short comings were not repeated.
"Kent Police's sympathies remain with Mr Dunk's family and we have met with them and talked at length about the investigation, the review and our findings," it said.