Manston Airport 'would have lost £2.5m a year', document shows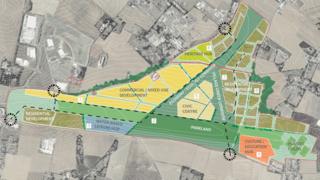 Manston Airport, which closed last year, would have lost about £2.5m a year if it had stayed open, a leaked document has shown.
The document, seen by BBC Radio Kent, details financial projections commissioned by the previous owners before the airport closed in May 2014.
Its new owners want to develop it for residential and commercial use.
However, the newly-elected UKIP Thanet council has said it is considering a compulsory purchase of the site.
'Limping on'
Paul Carter, leader of Kent County Council, said the airport would have been "enormously difficult to sustain".
"All the experts that we have talked to question the viability of Manston as a going concern airport," he said.
"I think it is above my pay grade to weigh up the pros and cons of the opportunity that the new owners have started to set out, compared to potentially limping on with an airport that tries to grow cargo business and does aeroplane breakage."
However, North Thanet MP Sir Roger Gale dismissed the credibility of the document.
"Bear in mind that this document were produced by people who failed to produce a profit who clearly intended to close the airport," he said.